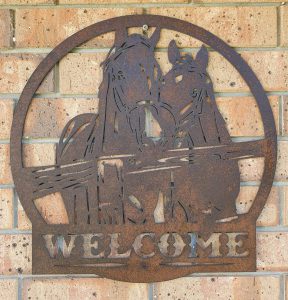 Ordering Guide
This ordering guide was put together to help answer any of the questions you may have, and to assist you with the ordering process for the Welcome Sign Range.
If you have further questions, you can contact us by filling in a Request A Design form, emailing us on admin@hotcutdxf.com, sending us a PM at the Hot Cut FB Page or by calling us on (08) 8317 6055. We are always here to help.
Step 1: Choosing a Material
We offer our products in three different materials, each material has its place in everyone's budget and requirements. The list below will list the material, what it is and where it is best placed.
MDF: Medium-Density Fiberboard
Best described as our wooden product, this is designed for indoor use only. MDF is the cheapest of the materials for our signs, and is really cost effective way to create beautiful signs that can hang up in environments fully protected from the elements such as moisture and rain. It is also fine for places like the shed where there is not direct exposure to these elements.
Perspex: Cast Acrylic Sheet
Everyone has seen Perspex, but may not put the name to the material that you see every day. You will most likely recognise the material as a clear transparent, plastic looking product that is used to provide stands for flyers, used as sneeze barriers (especially in COVID times), it is also a very common material in most 3D business signage installations.
While we do not use the transparent version of Perspex, we use the Black and White colored Perspex. It has a high gloss finish and is perfect for indoors and protected outdoors environments. While Perspex is not susceptible to the elements such as sunlight, normal weather conditions, rain and moisture. It is still classed as a fragile piece as the process of laser cutting Perspex does make the piece susceptible to breaking if handled roughly. So these Perspex pieces are fine outdoors, but we highly recommend that they are mounted directly to something solid as a backing, such as a wall. Installations such as a front fence are not recommended for Perspex Pieces.
1.6mm Hot Rolled Mild Australian Steel
The most hard waring material of the entire range, but also quite a bit more expensive than MDF or Perspex, and that is due to the cost of the material itself, and the additional machines and labour required to make these pieces.
Steel can be used anywhere and will last you a lifetime.
Step 2: Choosing a Size
Once you have selected the material of choice, you are them presented with a range of sizes that are available for the material you have chosen. Not all sizes are available for each material as they are cut on different machines and each machine has it's limits to what it can handle. Whether it be the size of the sheet of raw material we can use (in the case of MDF and Perspex), or it be the machine limits in how detailed the cuts can be (in the case of Steel on the Plasma Cutter)
Step 3: Choosing a Colour
The next is the colour. Each product has its own colour range, that is why you must select your material and size before the colour options are presented to you.
For MDF, Raw or Black is included as standard in the cost of the piece. Specialty can spray colors will incur a $5 surcharge.
For Perspex, the raw material already comes cast in the colour of your choice, so there is no other option apart from Black or White. And as we do not have to paint it, there is no surcharge.
For Steel, the price includes the ability to get your piece either raw or rusted. For an additional charge you can get the piece powder coated for the best protection. If you want to read more about the powder coating process, please click HERE.
Step 4: Customising the Name
All of the Welcome signs come with the default text WELCOME on them. But if you would like to change that text, you can do so by ticking "Customise Text" It will incur a $10 fee as it takes our designers extra time to change the design for you. You can change the text to anything you like.
That's it! You're ready to place the order!
All you have to do is add that product to your cart and proceed through the online checkout!
Full Price List
Below is a full price list for all the Welcome Sign Options for easy reference. These prices include the 25% discount.
MDF
Size
Price
Options
30cm
$22.50
Special colours +$5
Customise Name +$10
40cm
$26.50
60cm
$37.50
80cm
$52.50
Perspex
Size
Price
Options
30cm
$37.50
Customise Name +$10
40cm
$52.50
60cm
$90.00
80cm
$142.50
Steel
Size
Price
Options
60cm
$142.50
Powder Coat +$15 to $30
Customise Name +$10
80cm
$180.00
100cm
$262.50