There is no better way to greet your visitors than a custom made property sign from Hot Cut Laser and Plasma Art! Every element can be customised to your exact needs. Is it time to let your property stand out from the rest?
Below is a short gallery of some of our property signs hanging at properties around Australia!
So you're thinking of getting one made? I bet you have some questions! This page is dedicated to answering as many questions as possible about the materials and process.
After reading, if you still have questions, that is fine, we are here to help! Simply contact us via the form at the bottom of the page and one of our team members will be in touch.
Material
By default, our signs are made from Australian made 1.6mm thick steel. If your requirements call for something thicker, we also stock 3mm material and is available on request.
We use two different types of steel and which steel we use depends on the finish that you choose.
If you choose a raw steel or rusted patina finish. We will use a product called Corten. Corten is specifically designed for applications where a rusted finish is required without compromising on the strength and integrity of the steel over time.
For signs with a powder coated finish, we will use a product called Hot Rolled Steel (HRS). After we cut HRS, it is quickly cleaned and treated before being powder coated to offer the best available protection.
Powder Coating
Powder coating is one of the most popular finishes for outdoor steel products. It is a high quality durable finish that prevents rusting, resists scratching and will stand the test of time when compared to normal painting.
We use Dulux branded powder coat which is only available to certified businesses who have proven that they can deliver the quality expected.
You can view the range of colours that we offer at the link below
Backing Panel
Depending on how and where you want to present your sign, you may consider a backing panel. The backing panel offers a contrasting colour to the main sign and is available in 2 different materials. Steel and Aluminium Composite Panel (ACP)
ACP is the most common material for this purpose as it is extremely light weight and available in different colours and finishes.
ACP can only be ordered with designs that are either square or rectangle in shape. For all other shapes, steel is the option that must be selected.
Let your creativity run wild, deciding how to present your new sign is half the fun. See the gallery above for some inspiration. It can be also mounted on timber, corrugated iron, fence rails, mini orb or even hanging from a beam.
We have recently added a corrugated iron and framing option. This option is for those who want to receive a sign that is backed with iron and framed that is ready to hang. An example of this option is shown below.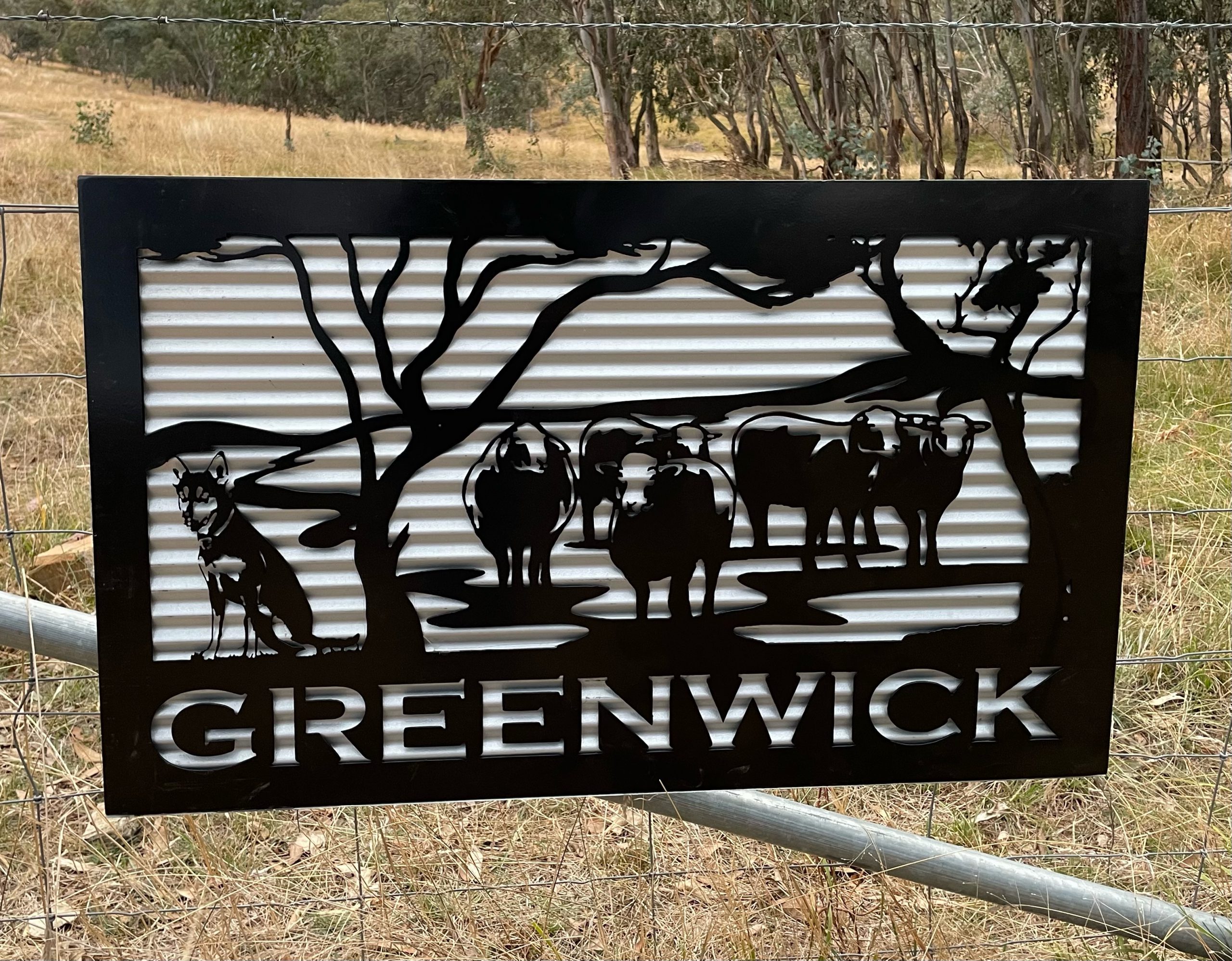 Size
Your new sign can be any size that you want. We quote on the most popular size of 100cm. When we say 100cm we mean the greatest dimension of the sign, in the case of property signs, most of the time, that will be the width.
The height of your sign will largely depend on the design that you want. Some designs will call for 60cm height, some will require the full 100cm height. The average heights of most of our designs will fall between 60cm and 85cm.
With that being said, 100cm is just a default. We can make your sign smaller, or we can go up to a full sheet, which is a whopping 240cm x 120cm. But if your considering going over 100cm in size, you need to read the next section.
Postage
We offer a flat rate postage fee of $19.95 for any sign up to 100cm in size, anywhere in Australia. After 100cm and up to 120cm, we can send via private couriers, and for 120cm + we have to send via freight companies.
Private couriers for sizes from 101cm to 120cm are usually between $35 and $50 and are quoted on a per job basis. Very rarely does the fee go over $50, but we will advise you if that is the case.
For sizes over 120cm, your sign will need to be loaded onto a pallet and delivered via freight company. As it is loaded on a pallet, it needs to be delivered to either one of our partner pickup depots around Australia or to a business that has a forklift for unloading. We can deliver a 240cm x 120cm to most places in Australia for $100-$150. Remote locations can incur rates up to $500, but again. We will let you know what the freight fee is through the quoting process.
Design
I know you have been waiting for this section. It's time to talk design. In short, your design or ours.
You can choose from any of our existing designs that are available on our website. Included in the standard price is the ability to change the name to your property name. We also offer subtle changes for a small fee, such as changing out the types of animals in the design, but over all the design itself is generally set.
If you have something specific in mind, you can go down the custom design path.
Custom design can be anything including your own logo. This option is $100 extra, and you get a personal design just for you based on exactly what you want included.
All custom designs are covered by our Design Policy, so you can be assured that you will be 100% happy with your design before we manufacture your order, or your money back.
An added bonus is that once your design is done, it's unique! We will not add it to the website, and no one else will be able to order that exact sign again.
Design Modifications to Stock Designs
Love the look and style of one of our stock deigns, but it's not quite perfect? We may not have the correct breed of beast/animal or might have the wrong animal all together? And you don't want to go down the custom design path? No worries, we have you covered.
For a much smaller design fee than a complete custom design, we can make minor adjustments to our stock designs to meet your needs.
What do we classify as a minor change?
Our classification of a minor change is a simple addition, removal or exchange of an item in the design. It does not cover extensive changes that would require a major rework of the design.
Covered changes include;
Exchange existing animals with a different breed or type
Removal of unwanted items in the design
Add a new piece of clip art into an existing empty space
Ordering / Get a Quote
Ready to get the process started for your property sign? Excellent, you are in good hands.
Start by taking a look at our existing range;
If you want a custom design made that is either 100cm or 80cm in size, you can order directly from the link below;
Need something a little different? Or still have questions? No problems, fill out the request form below and a member of our team will be in touch to discuss your needs